Fortnite Item Shop *NEW* STRANGER THINGS SKINS! [July 4th, 2019] (Fortnite Battle Royale)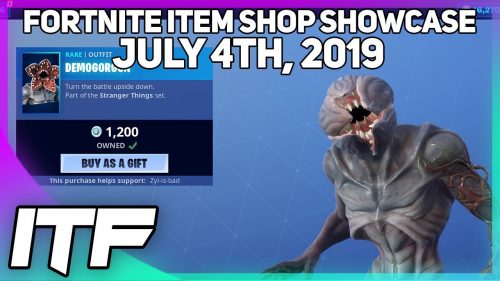 Fortnite Item Shop right now on July 4th, 2019 or 7/4/19.
Let's see what's in the Item Shop today! Featured Items include the NEW Chief Hopper skin, the NEW Vines wrap, the NEW Demogorgon skin, the Doublecross skin, and the Flowerprint wrap!
Daily Items include the Fireworks Team Leader skin, the Star-Spangled Trooper skin, the Color Guard back bling, the Rocket Spinner emote, the Fireworks wrap, the Sparkler emote, the Star-Spangled Ranger skin, and the Brave Bag back bling.
If you would like to support me for the Support A Creator event, just go to the Item Shop, click the bottom right button that says, "Support Creator" and type in the name "italkfortnite" exactly like that! Thank you guys for the support, it means the world to me.
Check out some other uploads of mine! These are my favorite at the moment!
Reflex Special Edit Style, Renegade Raider Coming Back?
Where Did The HYPE For Skins Go? (Fortnite Battle Royale)
I BOUGHT EVERY SINGLE ALPINE ACE AND MOGUL MASTER SKIN!
Rarity Matters In Fortnite… (Fortnite Battle Royale)
//www.youtube.com/watch?v=5hwtpG2Q3Ig