Reporter's Son Interrupts Live Broadcast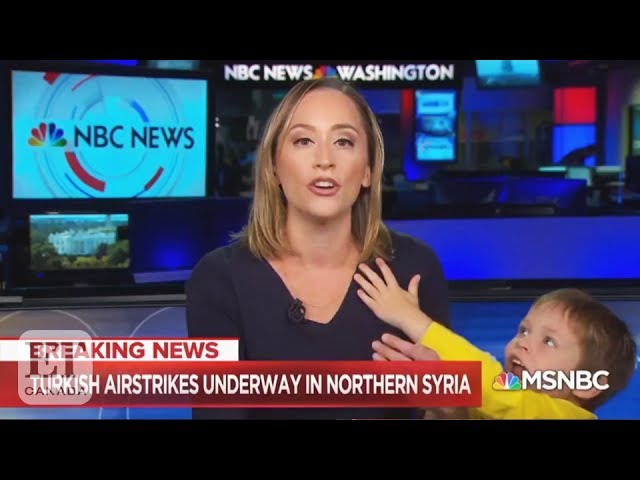 Cute!
NBC News correspondent Courtney Kube's son interrupts live broadcast and it's adorable.
How can employers balance the needs of working parents while maintaining a professional work environment?
Reporter's Son Interrupts Live Broadcast
In a live broadcast on the news, a reporter's son made an unexpected entrance, catching his mother off guard and causing a commotion among the news team. The incident, which took place during a live stream session, has since gone viral, sparking debate amongst the public about the ethics of bringing children to work.
In the video footage, the reporter can be seen discussing a news story when her young son suddenly wanders onto the live set. The reporter is visibly taken aback by this unexpected interruption, seemingly unsure how to react. Meanwhile, the news team members behind her are scrambling to contain the situation, with one quickly scooping up the child and leading him off-screen.
The incident has raised questions about the appropriateness of bringing children to work, particularly in a high-pressure environment like a live news broadcast. While some argue that it humanizes reporters and helps to convey a sense of work-life balance, others maintain that it is unprofessional and can be a distraction to the job at hand.
Furthermore, the incident shows the challenges of balancing parental responsibilities with a demanding job. Many working parents struggle with the decision to bring their children to work, particularly when childcare options are limited or unavailable. While some employers are more accommodating, others have stricter policies about bringing children into the workplace.
Overall, this incident serves as a reminder of the importance of maintaining professionalism and focus in the workplace while balancing other responsibilities outside of work. It also highlights the need for more flexibility in work environments, particularly for working parents who face the added challenge of balancing work and family life.
In conclusion, the reporter's son interrupting a live broadcast has sparked a heated debate among the public about the appropriateness of bringing children to work. While this incident may have been unintentional, it highlights the challenges that working parents face in balancing their responsibilities at home and at work. Ultimately, it is up to each individual to determine what works best for them and their family, but it is important to maintain professionalism and focus on the job at hand.