Gunpowder Milkshake | Karen Gillan & Lena Headey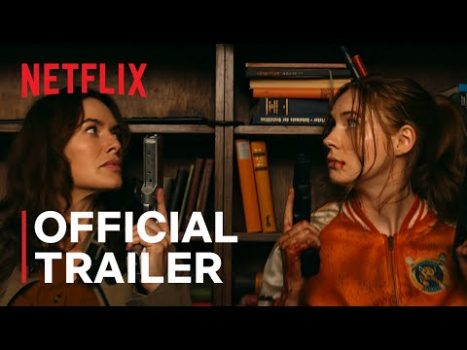 Sam (KAREN GILLAN) was only 12 years old when her mother Scarlet (LENA HEADEY), an elite #assassin, was forced to abandon her.
Sam was raised by The Firm, the ruthless crime syndicate her mother worked for. Now, 15 years later, Sam has followed in her mother's footsteps and grown into a fierce hit-woman. She uses her "talents" to clean up The Firm's most dangerous messes. She's as efficient as she is loyal. But when a high-risk job goes wrong, Sam must choose between serving The Firm and protecting the life of an innocent 8-year-old girl – Emily (CHLOE COLEMAN). With a target on her back, Sam has only one chance to survive: Reunite with her mother and her lethal associates, The Librarians (MICHELLE YEOH, ANGELA BASSETT, and CARLA GUGINO). These three generations of women must now learn to trust each other, stand up to The Firm and their army of henchmen, and raise hell against those who could take everything from them.
What are audiences saying about the performances of Karen Gillan and Lena Headey in Gunpowder Milkshake?
Gunpowder Milkshake: Popular Actors Karen Gillan & Lena Headey Light Up the Screen
Gunpowder Milkshake is an action-packed, high-octane thriller that features the incredible performances of Karen Gillan and Lena Headey. Between them, these two actresses have amassed an extensive and impressive body of work, carving out a path for themselves as powerful and authoritative women in the entertainment industry.
Karen Gillan first dazzled audiences with her role in Doctor Who as the enigmatic and feisty Amy Pond. She then went on to conquer Hollywood with her spirited portrayal of Nebula in the wildly popular Marvel Cinematic Universe. Her performances are always dynamic, convincing, and full of energy. Gunpowder Milkshake is no different. Gillan commands the screen as Sam, an elite hitwoman who must unravel a deadly conspiracy to protect a young girl from harm.
Lena Headey is no stranger to commanding authority on screen either. Her iconic turn as the ruthless Queen Cersei Lannister in Game of Thrones will go down in history as one of the most powerful performances ever seen on television. Headey's strength and poise make her the perfect choice to play Scarlet, Sam's estranged mother and another skilled killer who will do anything to protect her daughter.
Together, Gillan and Headey make for an unmissable pairing on-screen. With their shared talent for portraying complex, multi-layered characters, they bring real depth and nuance to their roles in Gunpowder Milkshake. As Sam and Scarlet, they are funny, touching, and relatable, adding emotional weight to the pulse-pounding action sequences.
Gunpowder Milkshake, directed by Navot Papushado, is an instant classic of the action genre, full of well-choreographed fight scenes, thrilling car chases, and killer one-liners. It's a movie that is sure to keep audiences on the edge of their seats from start to finish, with Gillan and Headey leading the charge with their sharp performances.
In conclusion, Gunpowder Milkshake is a must-see movie thanks to the incredible Karen Gillan and Lena Headey, who are sure to keep audiences entertained with their skillful acting and fierce on-screen presence. This is a film that showcases the remarkable talent of two of the most sought-after actors in the industry, and they don't disappoint. Be sure to catch Gunpowder Milkshake and witness the magic of Gillan and Headey in action.