2020 Democratic Debate – SNL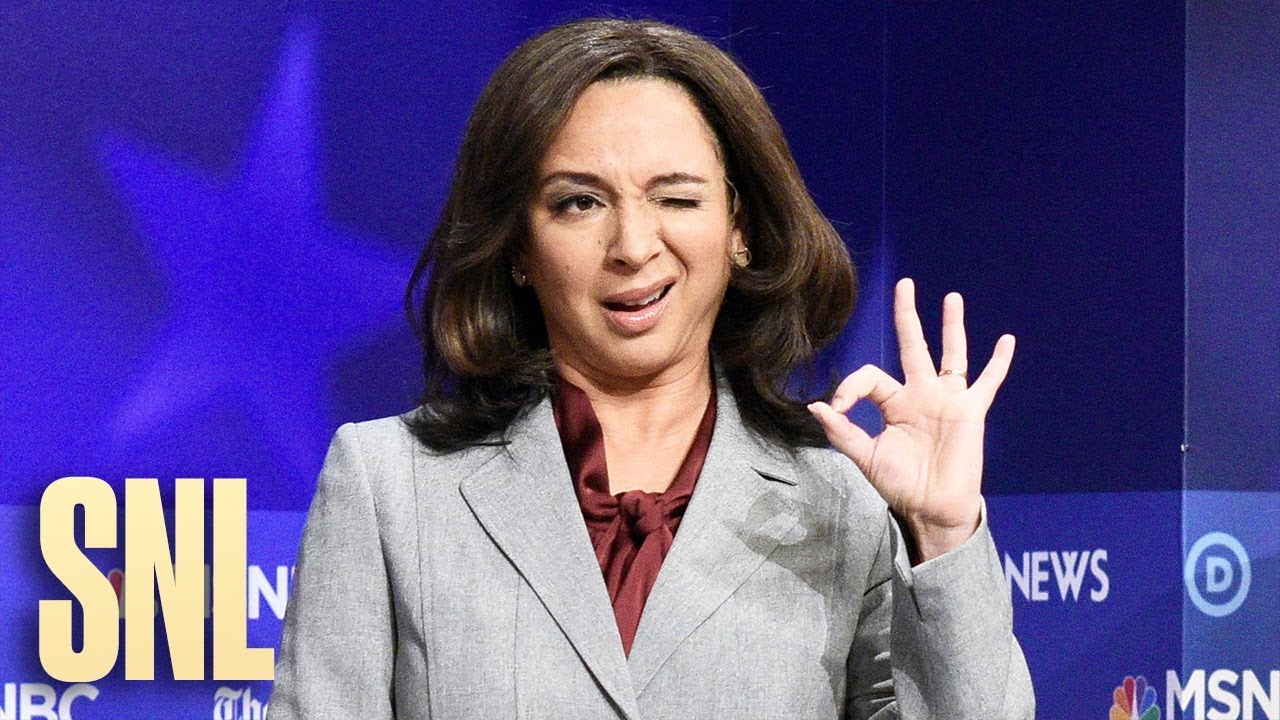 Presidential candidates
Andrew Yang (Bowen Yang), Pete Buttigieg (Colin Jost), Cory Booker (Chris Redd), Elizabeth Warren (Kate McKinnon), Amy Klobuchar (Rachel Dratch), Tom Steyer (Will Ferrell), Michael Bloomberg (Fred Armisen), Tulsi Gabbard (Cecily Strong) Bernie Sanders (Larry David), Joe Biden (Woody Harrelson) and Kamala Harris (Maya Rudolph) speak at MSNBC's 2020 Democratic Debate.
How should we balance our use of humor and satire with more traditional means of political discourse, and why is it important to do so?
On December 21st, 2019, Saturday Night Live (SNL) aired a parody of the sixth Democratic presidential debate. The sketch, which featured cast member Kate McKinnon playing Senator Elizabeth Warren and several other members of the cast portraying other Democratic candidates, poked fun at the candidates' policies, personal quirks, and onstage bickering.
One of the most notable moments from the sketch was when McKinnon's Warren pulled out a glittery wine bottle and declared, "I'm the only one onstage who's not a billionaire or a mayor," referencing former New York City Mayor Michael Bloomberg's recent entry into the race and the wealth of other candidates like former Vice President Joe Biden and Mayor Pete Buttigieg.
The sketch also took aim at other candidates' policies and personalities, including Senator Bernie Sanders' (played by Larry David) insistence on free college for all and Senator Amy Klobuchar's (played by Rachel Dratch) tendency to interrupt others onstage.
SNL's parody of the debate highlights the fact that humor and satire can be powerful tools for political commentary. While SNL's take on the Democratic candidates may not be entirely accurate (or politically correct), it can serve as a way to take a step back from the serious nature of politics and view candidates in a more lighthearted way. Moreover, it can encourage voters to pay attention to current events and political issues.
However, it is crucial to note that while humor and satire can be useful in promoting political engagement and discourse, it should not be the only way we interact with politics. Political discussions and debates should always be grounded in fact and respectful dialogue, and it is imperative that we do not allow humor to devalue the seriousness of political issues and decisions.
All in all, the SNL parody of the Democratic debate serves as a timely reminder that we should always be engaged and informed citizens, regardless of whether we choose to engage with politics through humor or more traditional means of discourse. As we head into the 2020 presidential election, it is critical that we remain open-minded, well-informed, and respectful of those who hold different views from our own.