The 84 Year Old BBQ Legend of Texas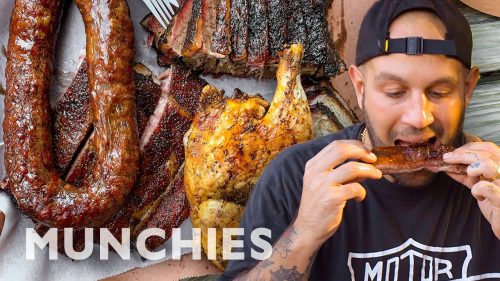 Frank Pinello is back in Texas with another episode of A Frank Experience. This time, he's in Lexington, TX and is learning what it takes to make world-class barbecue for the masses at the legendary Snow's BBQ.
Famous for their dry rub and onion-based mop, Snow's specializes in barbecue brisket, but also makes world-famous ribs, jalapeño cheddar sausage links, chicken and pork steak. Frank works the pit all night, trying to keep up with 84-year-old pitmaster Tootsie Tomanetz, who's been making barbecued meats for the people of Lexington for over 50 years. After mopping the meat, Frank tries his hand working the counter (and an electric carving knife) with the Snow's staff to serve the lengthy line of customers who start queuing up at 8 am for proper Texas BBQ.
Feel free to help out the website by checking out this item on Amazon. There's a small commission we earn if you decide to purchase anything through the link below. Thanks.
Whole Hog BBQ: The Gospel of Carolina Barbecue with
Recipes from Skylight Inn and Sam Jones BBQ: https://amzn.to/2Ib1XGc